Grant had a wonderful vonderful weekend! He is feeling great with the exception of a few gasping, crazy, concerning coughs a day. He woke up giggling and hugging (one of the best things in life is when your child loves on you) and played his heart out all day long each day. Failed to get a video of him whistling though! GRRRR...thats gonna be a challenge...bc the episodes are so short in duration. I will keep on keeping on though! Its the cutest thing I ever did see...little pursed lips...sweet little song. hehehe.
Friday night we went to Yokohama....ahhh...for my favorite special sushi roll...the ummm....Jayhawk....i graduated from mizzou but am obviously not a loyalist. Any mizzou grad in their right mind would ride the fence for this delicacy. and the super fabulous happening on this adventure was that GRANT SLEPT through the entire meal! It was a dream come true. He is a very exuberant child (aka loud) and therefore the silence was indeed golden (especially for the other diners).
SUSHI = great way to start off the weekend
Saturday we did some house maintenance (which included making an appointment with my friend and housekeeper for sunday) and then off to the
Legends
- an outdoor mall and tourist destination in KCK (kansas city kansas). Its totally sim city for those of you who played nintendo in the 90s. They took a ghetto/kind rural area, bulldozed it and then built it up into a place to spend money. It has changed the county dramatically! Now there is a speedway, baseball stadium, a mall, the great wolf lodge, cabellas...its very white trash...but it sure is raking in the tax dollars. So anyhoo...we ran up there for the decadent and sinful Firecracker wings from the
Yardhouse
. These things are wicked good. the plum garlic sauce rocks! before and after we strolled about people watching and giving grant escalator rides! we even showed him the dinosaur restaurant...he was kinda scared...but not too much. pretty cute - leaning in closer to daddy.
Sunday, my college friend Lindsey drove in from independance, mo for a day spent baby watching and mass street shopping. she had never been to lawrence ks. grant once again fell asleep as if by magic and allowed us to have our
zen zero
meal in peace. she accidentally ingested one of the red hot peppers! Fire fire! I called out for emergencey milk! She didnt even cry..but i think she was close. She is tough. Then we shopped some. I managed to find a good quality brush, a dramatic pair of specs and toys!!! Grant finally has his very own, small broom, whisk and dust pan. He is in seventh heaven I swear. note how content he is in the pic. I also grabbed up another wooden puzzle....and a plastic kazoo. Home was clean and the carpet super fluffy when we arrived. Kristen had worked her magic and i was no longer afraid of the bathroom. ahhhhh. wish we could have her on a regular basis.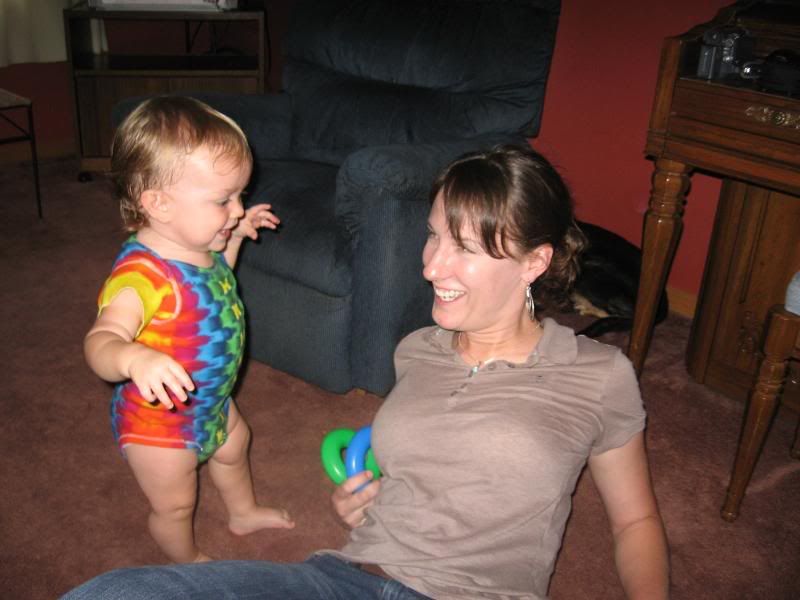 It was a very nice weekend...way up there on the scale. Grant is my superhero.